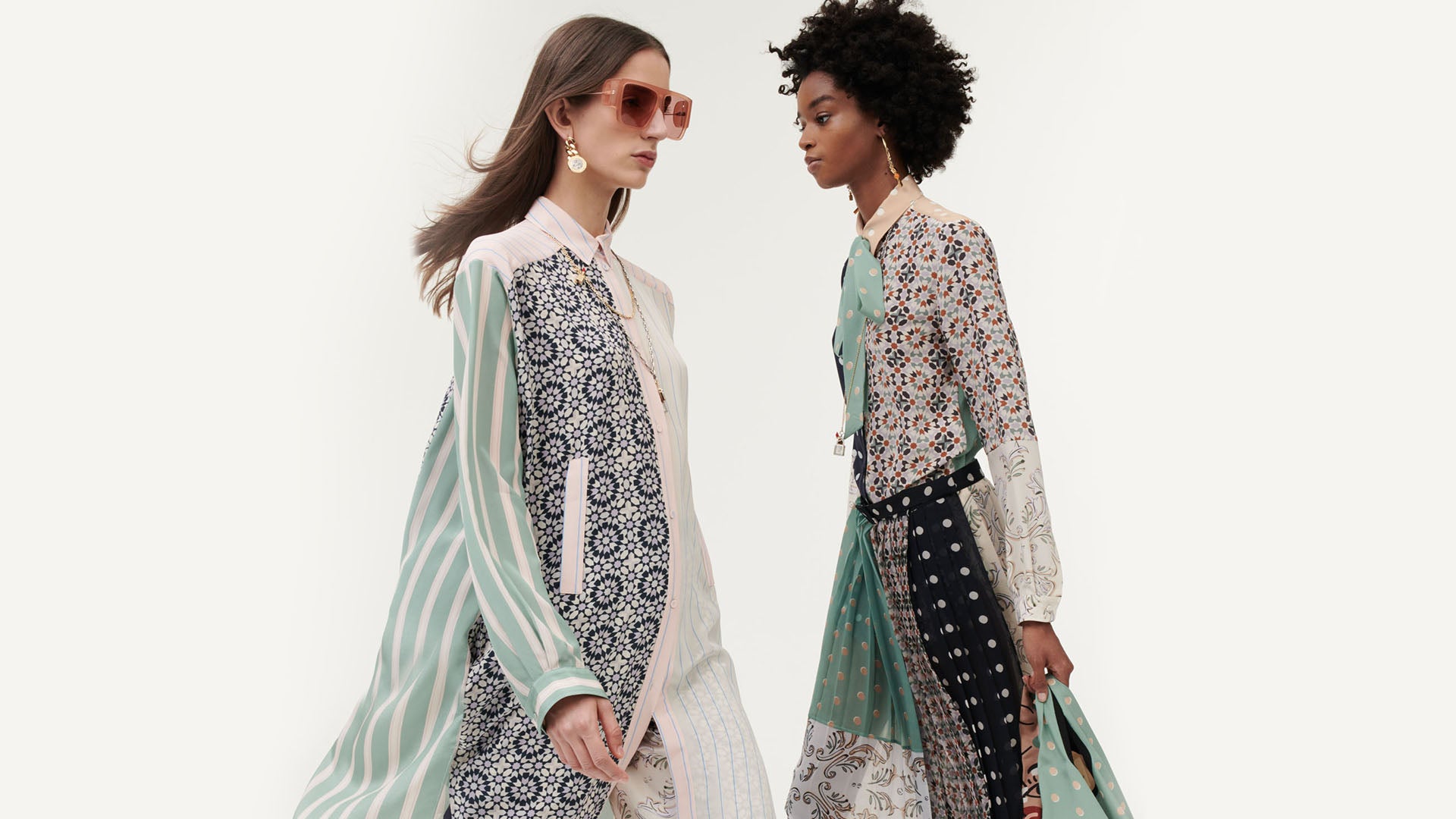 The PORTS 1961 Pre-Spring 2020 Collection draws inspiration from the Mediterranean shores, taking us on a journey through time and place. Shapes, prints, and patterns are influenced by the world of the arts. The colour palette is delicate and subtle, with vibrant accents on luxurious fabrics.
Crepe de chine, satin, and chiffon lend lightness to the silhouettes, providing a perfect canvas for bold prints: pen-and-ink line drawings, a woman's face, and a reinterpretation of the graphic studies by European artists from the 20th century. The concept of exploration leads to the incorporation of patchworks, seen in tile patterns and diamond-shaped prints, mixed with classic stripes and polka dots in faded pastel hues. Designs and colours meld together, creating a carefree, chic, and contemporary bohemian mood.
Light fabrics contrast with the elevated simplicity of single-breasted leather coats, denim jackets with contrasting stitch detailing, and poplin shirts. Feminine silhouettes remain simple and direct, yet come alive with animated details such as lacquered buttons and laser-cut-and-print techniques.
The cut-and-paste approach is evident in the knitwear pieces: a collage of yarns and fabrics, cutouts, and embroidery. Stitched patchwork with contrasting details adds uniqueness to the cashmere blend. Cardigans feature silk satin ribbons, imparting fluidity and movement to the silhouette.
The attitude of the ready-to-wear collection extends to the accessories. Shoes combine printed and colour-blocked fabrics with contrasting materials like pony and velvet inserts, topped with chunky buckles. Sunglasses are crafted from fine materials and high-quality lenses. Charms and necklaces pay homage to classical heritage jewellery chains, blending metal colours with an asymmetrical construction for movement in easy-to-wear pieces.